AMY CUTLER AND ELLA FINER
Somewhere in the universe, two black holes collide
16.12.22 at 18.30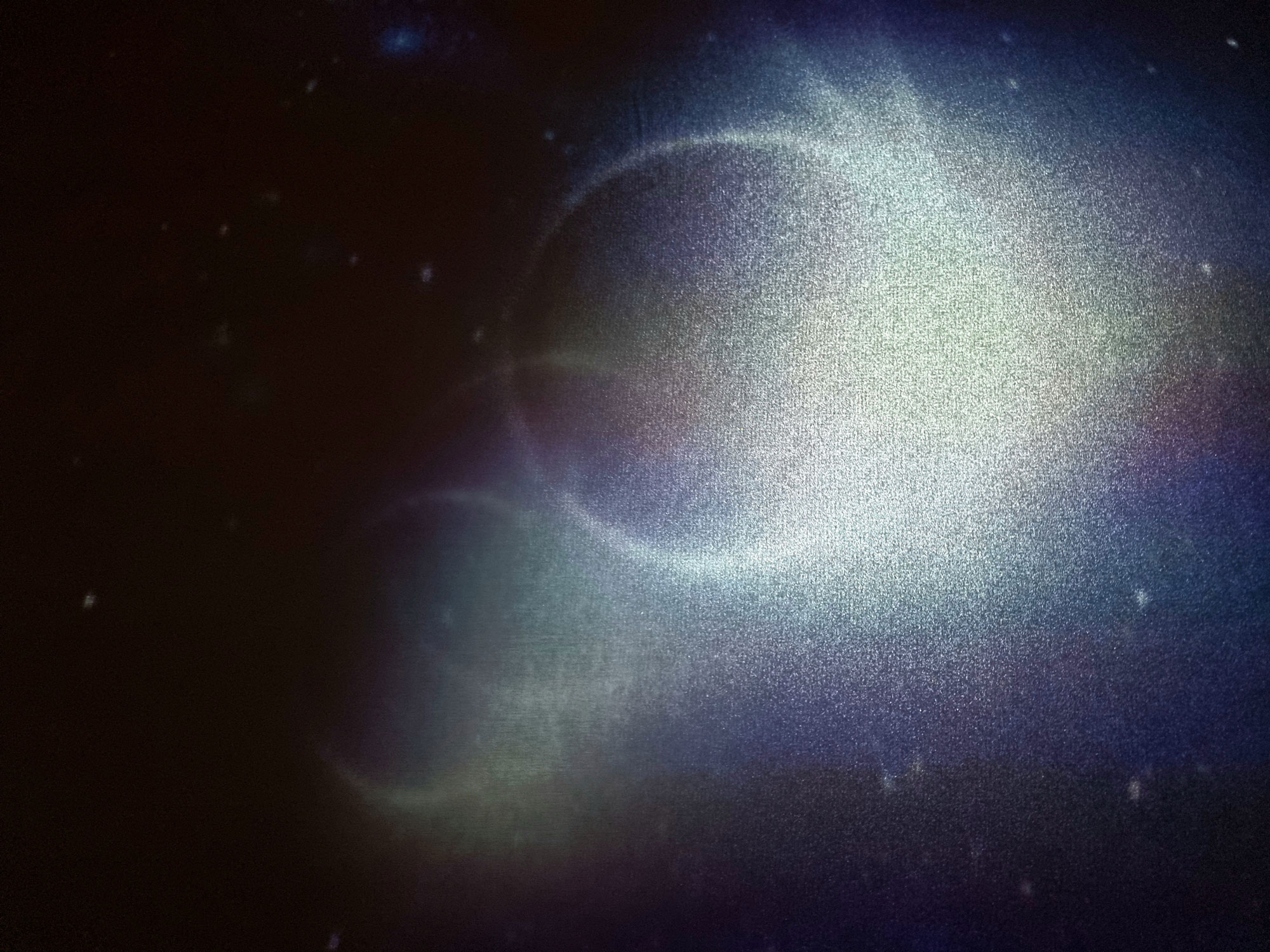 POSTPONED

Friday 16 December 18:30–20:30
KELDER, 26A Chapel Market, London N1 9EN



"Somewhere in the universe two black holes collide – as heavy as stars, as small as cities, literally black (the complete absence of light) holes (empty hollows)…The black holes collide in complete darkness. None of the energy exploding from the collision comes out as light. No telescope will ever see the event."

Janna Levin, 2016.


Is a black hole the inverse of cinema? How do we sound the event we cannot see? Following Janna Levin's work on black holes – and her expanding of observation as a practice of attunement, of deep listening to vibrational waves, in the absence of light – we close our experimental phases with a speculative black hole cinema.

This experiment combines Amy Cutler's interests in how a black hole cinema might behave – drawing on recent descriptions of black holes as hiding 'movies of the Universe in their glowing rings' (radio astronomer, Michael Johnson) – with Ella's work on sonorous tense, listening to elastic time, and proximities of touch, both cosmic and intimate.

As a provisional endpoint to Experiments in Company, this last phase will mark the meeting points of our audio-visual conversation so far. Inspired by terrestrial and extraterrestrial environmental legacies, including deep futures of complete resource exhaustion, we consider how the shared trajectories of this KELDER project can intervene in the holding patterns of cinema and planetary thinking. From its first phantasmagoria, to what has been called the 'pantheistic phosphorescence' of earth cinema, to a black hole's infinite nesting of images of the universe (an archive of sorts), we will explore what travels through light, sound, time and energy via the 'collisions' of collaborative practice.




Dr. Amy Cutler is a live cinema artist, composer, ecologist and designer. Her background as a geographer informs her AV interventions and speculative cinema designs, each aiming to unsettle the dominant formula of our environmental perspectives (including the sovereignty of 'so-called Man'). Recent projects include The Live Earth Show on the Gas Tower spatial cinema stage at Glastonbury Festival 2022; Living Nature Cinema, a 2022–23 residency on bio-art and de-extinction practices with the Leverhulme Centre for Anthropocene Biodiversity; LULL (2021), an ambisonics soundscape at Iklectik using interactive ultra-sonar sensing and inspired by jellyfish blackouts and strike actions; the touring live cinema opera NATURE'S NICKELODEONS, which most recently took place at The Exploratorium, San Francisco; and bespoke moving-image observatories for locations including Lud's Church ravine/landslip and Pendle Hill, with its history as an experimental site for atmospheric sensing. She is interested in pathetic fallacy, expanded media and the urgency of new designs for audience in the Anthropocene. She has also released five albums, ranging from experimental electronics to rage aria to live metallurgy.

www.amycutler.net

Ella Finer's work in sound and performance spans writing, composing and curating with a particular interest in how women's voices take up space; how bodies acoustically disrupt, challenge or change occupations of space. Her research continuously queries the ownership of cultural expression through sound; often through collaborative projects centring listening as a practice of deep attention, affiliation and reciprocity. Recent work includes her collaboration with Vibeke Mascini, Silent Whale Letters, which will be published by Sternberg in 2023; continuing iterations of Burning House/Burning Horse (first commissioned by Almanac) and Wind Study, a tape of 8 elemental re-mixes produced with Flora Pitrolo.

She is currently finishing her first book Acoustic Commons and the Wild Life of Sound, a work considering the inherent power in/of that which falls outside of administrative control – as a way of thinking through the sonic as critical agitator: how sound resists categorisation in the archive; how sound makes and disperses knowledge beyond the bounds of the institutional building.