RECEPTION
Radical Ventriloquism: Acts of Speaking for & Speaking Through
Guest Curator: Lee Campbell
12.03.20 | 18.30–21.00

---
Alexander Costello (performance)

A priori (or It's Not About Thing. It's About All of It and Doing Things)
presents a fractious performance/dialogue between artist and material; a sequence of unravelling gestures and expressions concerning space, form and idea. What is heard and what is seen is the physical manifestation of this exchange.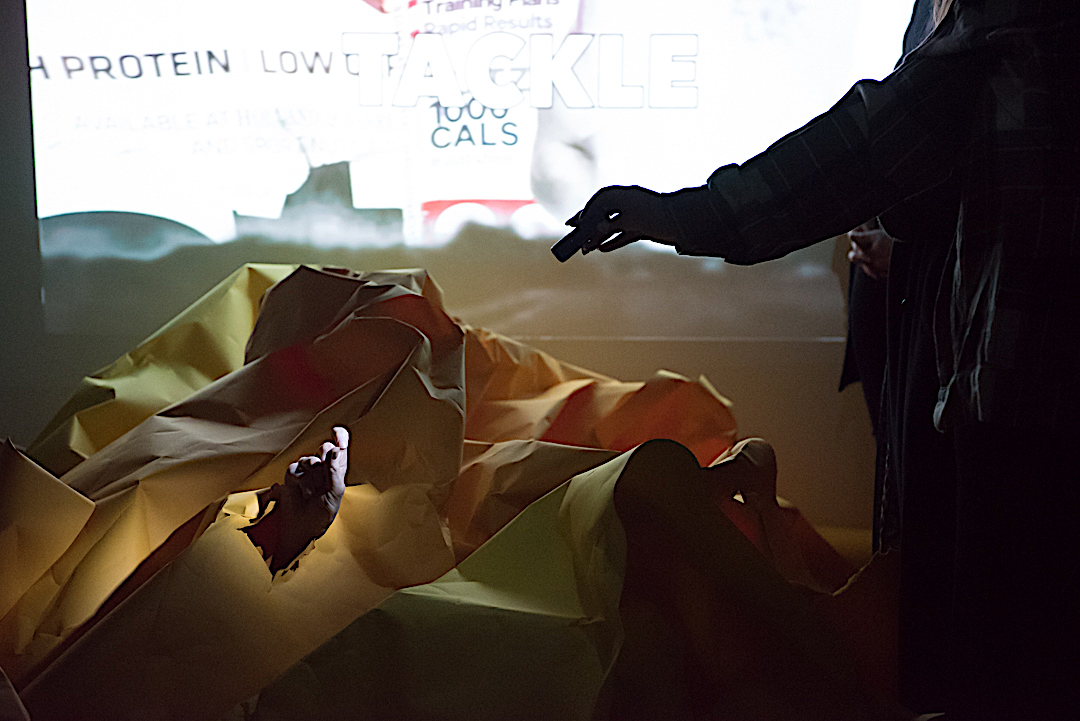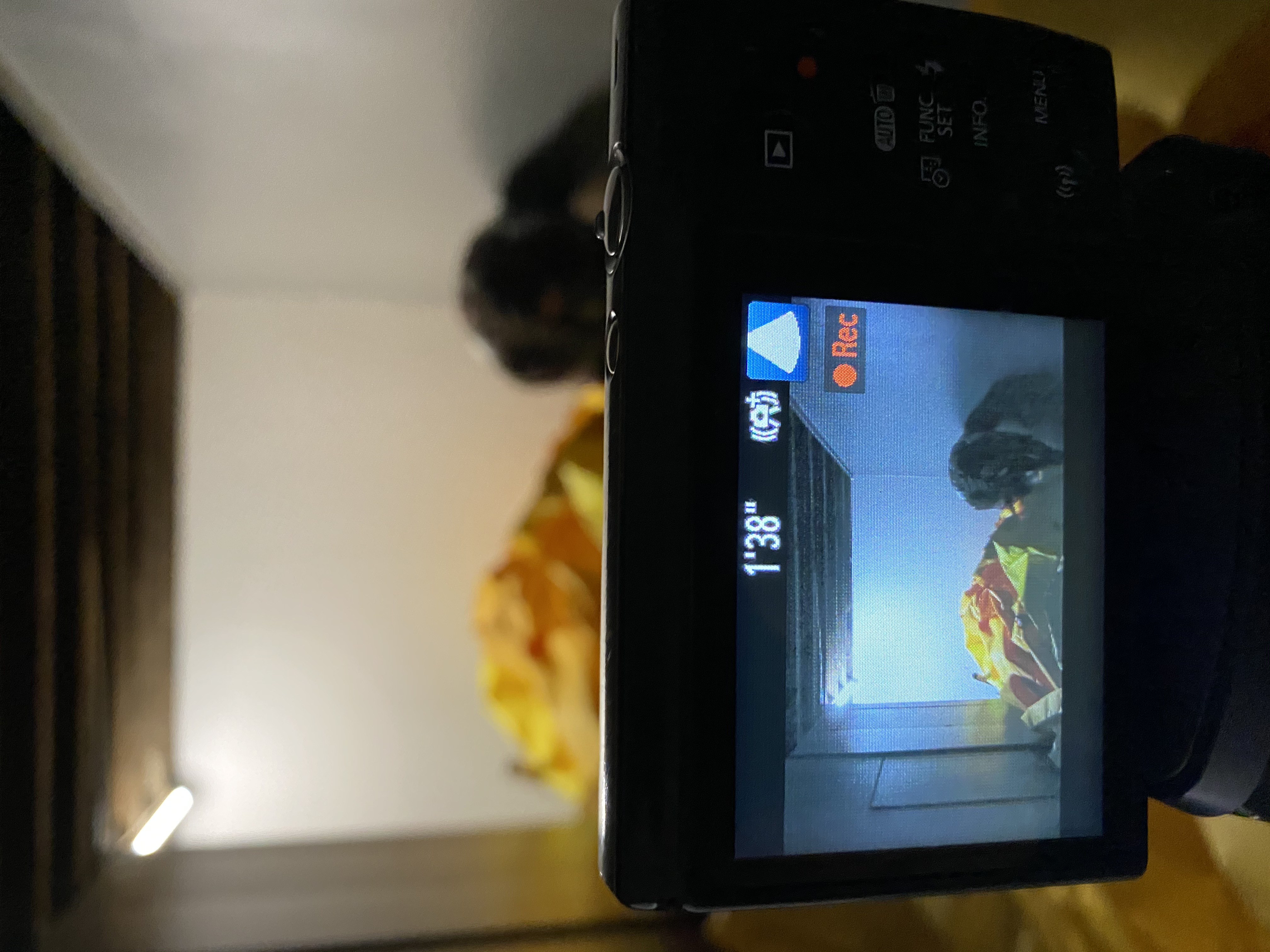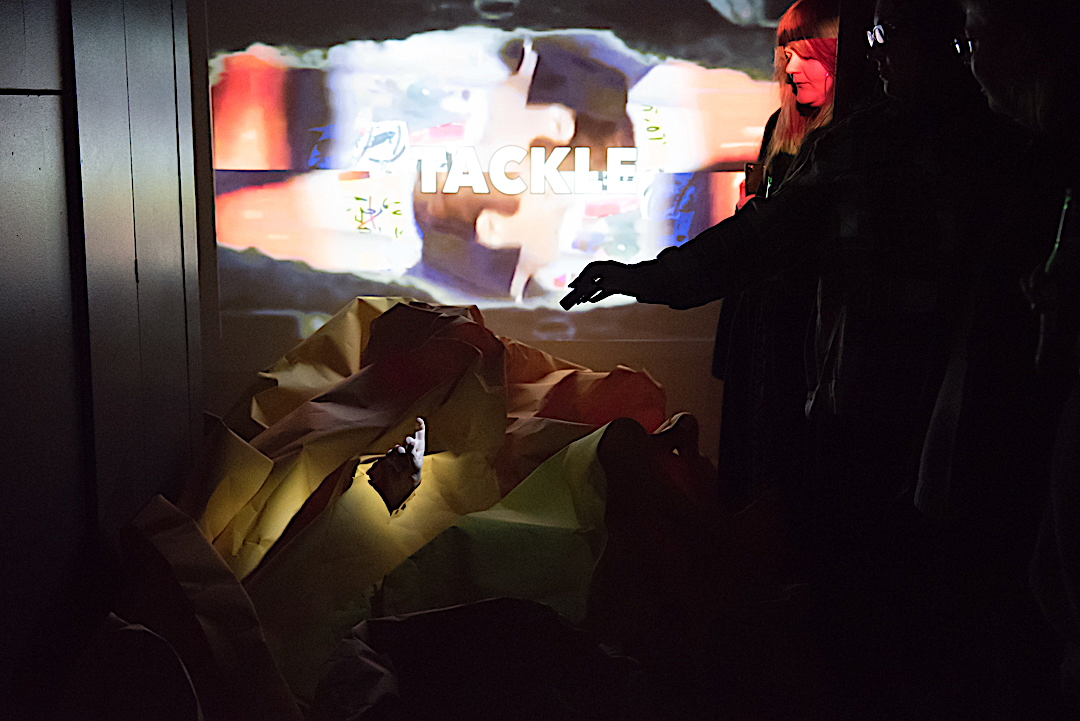 Photography Lee Campbell

Lee Campbell (screening & performance)

How can I get my partner to be my finger?
(2019
)
(film)
Disrupting the boundary between the active and the passive of who is in control and who is being a puppet, conversations ripe with absurdist comedy take place between a couple – one present, one technologically distant – my partner Alex and I. Alex 'speaks through' my finger via a tape-recording. Sometimes I 'speak for' Alex. The big question is: is it Alex speaking or is it me speaking? Or, in a psychoanalytic sense, is it our 'strangers within' who are speaking?
Photography Lee Campbell
Tackle
(2020) (film activated with performance)
Lee's recent film
TACKLE
confronts some of the issues and problems that men are under at the moment in society in terms of male identity. Like a balloon about to pop.
TACKLE
was made with vintage footage of a 1996/1997 football match between Coventry City and Aston Villa from YouTube, sound and moving image recordings made on a Sony Ericsson Cybershoot K800i mobile phone between 2005-2006, drawings and paintings made between 2005-2007 and 2018-2020 and photographic stills and moving image recordings made between 2011-2020 on various iPhones. Lee will perform a live version of this film throughout
Radical Ventriloquism
combining the film recording and live performance involving a disembodied finger.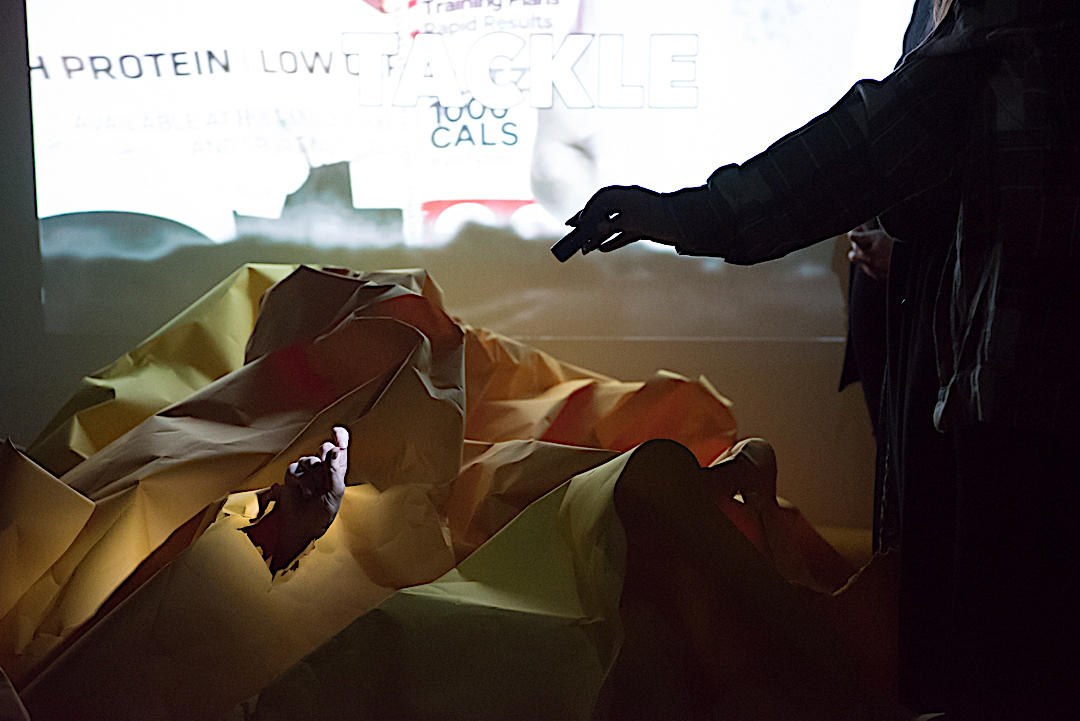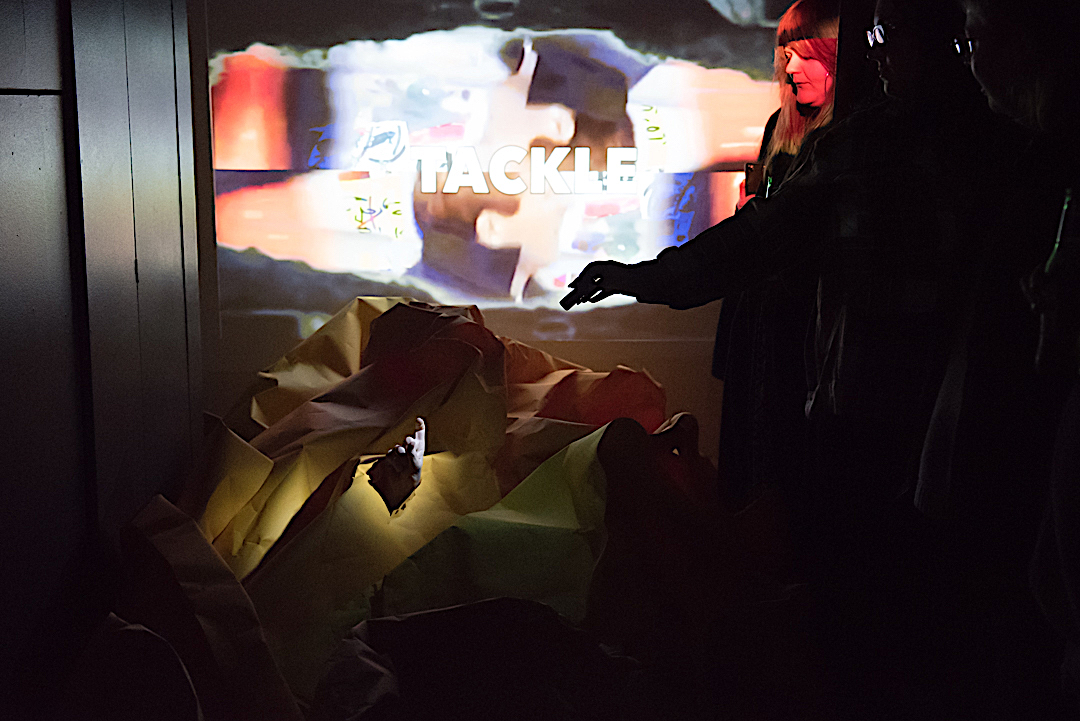 Photography Lee Campbell
Claire Makhlouf Carter (performance)

Claire Makhlouf Carter is currently researching demons, proxies and how voice performs gender. For
DEMO NOTHERE,
Claire Makhlouf Carter is summoning 'Georgie Chapman' to speak from her belly.
Photography Lee Campbell
About
This project forms part of a series of collaborative acts where KELDER will work with artists, curators, educators, institutions and writers to take the role of guest curator in order to realise a collaborative project.
For this project KELDER have collaborated with Dr Lee Campbell (b.1978), an artist based in London working in performance and moving image. His recent film Let Rip: A Personal History of Seeing and Not Seeing (2019) has been shortlisted for the Queerbee LGBT Film Festival 2020 and How can I get my partner to be my finger? was awarded Special Mention at London-Worldwide Comedy Short Film Festival Autumn 2019. An example of one of his previous curatorial projects is All for Show, (2005–2007, 2017), an internationally touring exhibition of short films made by British artists including Harold Offeh, Doug Fishbone and Juneau Projects that tested the acceptable limits of humour in the white cube art gallery using humour.