ROBERT CERVERA & PETER LAMB
Yes and
22.09.18–04.11.18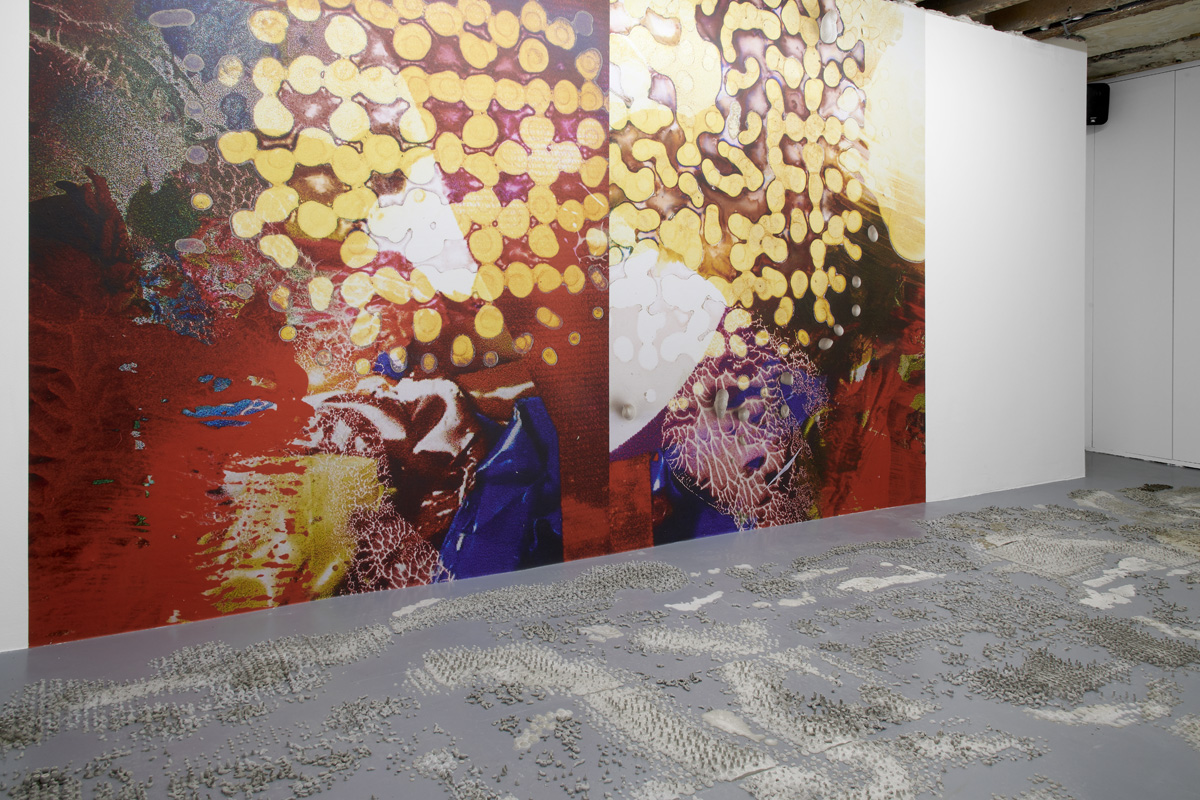 "Mr. Palomar is standing on the shore, looking at a wave. ... [He] sees a wave rise in the distance, grow, approach, change form and color, fold over itself, break, vanish, and flow again. At this point he could convince himself that he has concluded the operation he had set out to achieve, and he could go away. But isolating one wave is not easy, separating it from the wave immediately following, which seems to push it and at times overtakes it and sweeps it away; and it is no easier to separate that one wave from the preceding wave, which seems to drag it toward the shore, unless it turns against the following wave, as if to arrest it..."
Italo Calvino – Mr. Palomar on the Beach (in: Mr Palomar, 1983. pp. 3-4)

KELDER is pleased to host
Yes And
– a collaborative project by London-based artists Robert Cervera and Peter Lamb.
Taking the basement as their model and site for excavation, an archive of images instigated a chain reaction in which each of the artist's own set of rules are morphed together, creating a new site-sensitive project. Appropriating the improvisational comedy technique of 'call and response', Cervera and Lamb have subjected their practices to processes of reworking and distortion to generate an altered work of permutations and parallel evolutions.
The artists have welcomed each other's notions and mutations, allowing their physical and visual conversation to wander from one form to another. This new set of rules will be shaped into a printed mural wrapping KELDER's walls and will be further explored through sound and reversed excavations of the basement.
Robert Cervera's practice partakes in a fascination with the materiality around us and within us. A recurring interest is the dialogue between the molecular and the molar: formlessness and flow entering a dialogue with form, structure and systems. More recently, this has opened an enquiry into the ways we contain and organise shapeless assets such as water and data, and how they are materially related. Cervera graduated from the Royal College of Arts in 2014. In 2017 he was artist-in-residence at
La Escocesa
, Barcelona. Recent exhibitions include
Tomorrow Starts Here
(La Escocesa, Barcelona, 2017);
Identify your limitations, acknowledge your periphery
(Vitrine, Basel, 2017),
Glut Data
(ASC Gallery, London, 2017) and
New Material
(APT Gallery, London 2017).
robertcervera.com
Peter Lamb's practice follows a persistent procedure of reframing images, whereby he plays with the scale of pictorial gestures which are then re-photographed and re-appropriated, culminating into a system that builds layer on top of layer. His process is characterised by a constant fluidity in which each work filters into the next; a process whereby a vast array of forms is simultaneously lost and retrieved. Through trial and error, remnants fall into composition, the result appearing as the fallout of a material performance – a historical record of his decisions which repeatedly shift back and forth from reality to abstraction Lamb graduated from Camberwell School of Art in London. Recent exhibitions include
Surfaced
,
Thames-Side Studios Gallery, London (2018),
Redoubling'
,
Torrance Art Museum, California (2017);
Unnaturel Vibers', Peter Lamb, Vicky Wright, John Bunker, Micheal Stubbs, Dominic Beattie,
Unit 3 Gallery, London (2017),
Rare Collisions of Purpose
,
Boetzelaer|Nispen, Amsterdam (2016).
peterlamb.org